Lovekins Baby Skincare
Made in Australia, our baby skincare contains potent native Australian ingredients, is Australian certified toxic free and Vegan certified. Shop our award-winning range of natural baby products below!
Sorry, there are no products in this collection
Honouring ancient Indigenous ingredients, Lovekins Baby Skincare products harness the healing power of Australian nature
The Ingredients
All Lovekins Baby Skincare is free from Propylene glycol, sulphates, parabens, mineral oil, synthetic fragrance, artificial colours, phthalates and EDTA. Vegan, Non Toxic Certified, Endorsed by Australian College of Midwives and made in Australia.
Kakadu Plum
Kakadu Plum has the highest source of Vitamin C on the planet – up to 100 times more Vitamin C than oranges. It contains antioxidant, anti-bacterial, anti-viral, anti-fungal and anti-inflammatory properties to help keep mother and babies skin healthy.
Shea Butter
Nutrient rich properties that gently hydrates and softens delicate skin. Shea Butter has has a high concentration of fatty acids and has been used for thousands of years. It is naturally rich in vitamins A, E and F.
Australian Blue Cypress
Australian Blue Cypress is native to Australia and grown in the Northern Territory; the blue coloured guaiazulene has anti-inflammatory, anti-bacterial, anti-pyretic, anti-allergenic and anti-viral benefits, which restore, refresh and protect delicate skin. In addition, the unique scent creates an instant feeling of calm and relaxation, making it perfect for de-stressing and self-care.
Explore Our Ingredients
Our Baby Skincare also features in our gift boxes
Lovekins Baby Skincare Products
Lovekins range of natural baby products includes Baby Face Cream, Baby Body Moisturiser, Baby Hair + Body Wash, SPF 3 Baby Sunscreen and Baby Massage Oil.
**
We believe it's vitally important to use gentle, plant-based products on your child's skin to keep them healthy, happy and thriving.
**
Our Baby Hair + Body Wash is packed full of Australian Kakadu Plum, the richest source of Vitamin C on the planet and an Indigenous superfood known for its antibacterial and anti viral properties. Enriched with Tasmanian Pepper Berry, Blue Cypress and Lavender to cleanse your little one's hair and body without the use of harsh chemicals that can irritate or dry out the skin. Our natural and safe formula is suitable for skin that is prone to dryness, redness or irritation.
**
Lovekins natural Baby Body Moisturiser + Baby Face Cream provide long-lasting hydration to delicate skin. Babies skin is much more delicate and prone to irritation and moisture loss than adults. Our natural baby moisturisers contain Shea and Cocoa Butter to strengthen the skin barrier while locking in hydration. Australian Blue Cypress and Lavender nourish the skin and senses to leave skin smooth and soft.
Massaging your baby provides a deep connection and bond; our Baby Massage Oil is enriched with natural and plant based ingredients such as Jojoba and Grape Seed Oils to hydrate the skin. Australian Blue Cypress and Lavender create a calming aroma, perfect for a relaxing massage at home.
**
Using natural sunscreen for babies helps to protect them from harmful UV rays while also nourishing their skin. Our SPF3 non-chemical, broad-spectrum UVA/UVB formula uses Zinc Oxide, Kakadu Plum, Candelilla & Sandalwood and is 3 hours water-resistant.
**
Our Nappy Cream will leave babies bottoms, hips and thighs feeling soft and calm. Nappy rash occurs when a nappy rubs against the skin or has not been frequently changed. Our plant based, vegan and Non- Toxic Certified Nappy Cream is endorsed by the Australian College of Midwives and loved by parents everywhere. The blend of Kakadu Plum, Avocado Oil, Shea Butter and Australian Blue Cypress creates a barrier to protect the skin from nappy rash or irritated skin.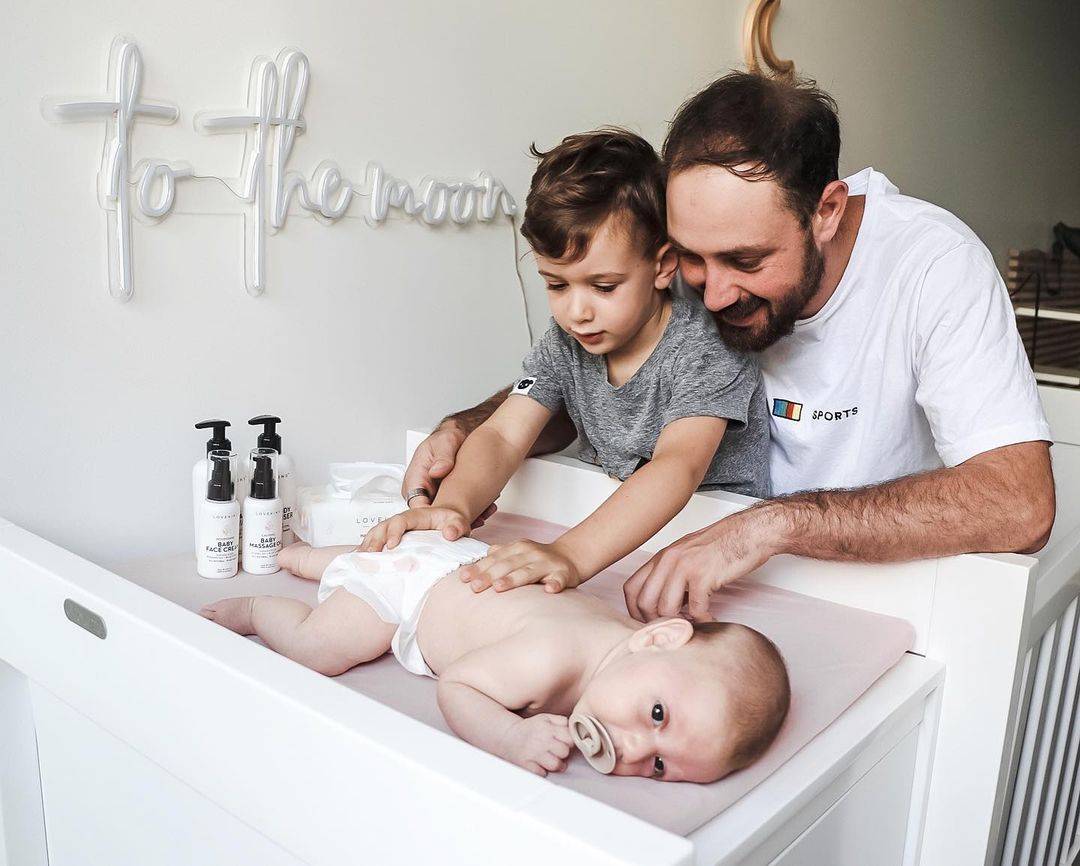 Our guide to help you create the best baby skincare routine
Read the Lovekins guide to creating the best skincare routine.
Read more
Welcome to Lovekins!
Enter your details below and we will send you a code to receive 10% off your first order when you spend over $80 on a single purchase. Join us to earn points and unlock exciting perks!
My account
Not a member yet?