Our guide to help you create the best baby skincare routine
Read the Lovekins guide to creating the best skincare routine.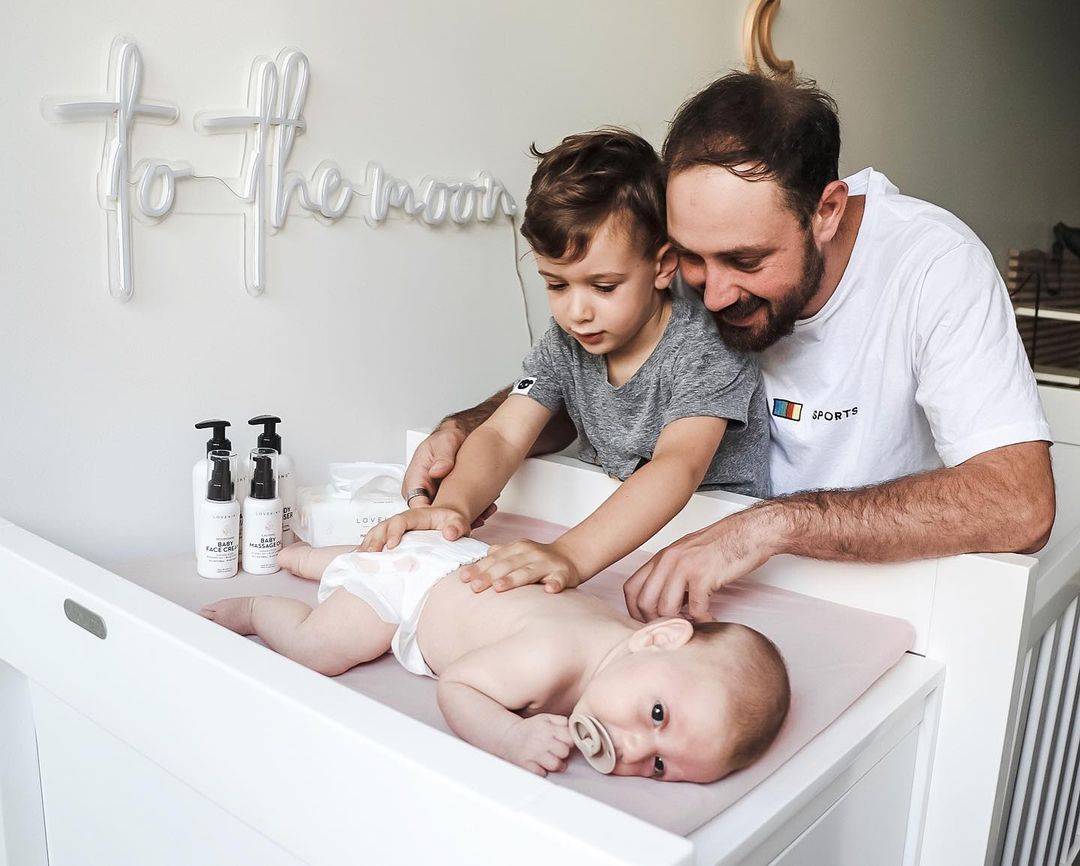 2021 - 02 - 17
Parenthood is a beautiful and life-changing experience. Sure, many challenges may come your way and may shock you if you're a first-time mother. It's always best to be prepared, especially when it comes to your little one's precious skin. We know that you imagine your baby's skin is smooth, silky and soft right from the start. To maintain your child's soft skin, a proper skincare routine is necessary. Using the right babycare products construct a healthy skin barrier and prevent their skin from becoming dry and flaky.
Baby's skin is sensitive. Newborns up to the age of two have skin that is delicate and immature. It means that the skin's defences are low against environmental factors, making them prone to irritation. This is why baby skincare is very important. Here's our guide to help you create the best baby skincare routine.
Baths are Not an Everyday Thing
Sure, you want your little one to be squeaky clean, but it's advised that babies don't need to take baths every day. According to the Raising Children Network, an Australian parenting website supported by the Australian Government"s Department of Social Services, it's recommended for newborns to have that bathtime three times a week. This is because bathing your baby more than enough can dry out their skin. During bath time, use our Baby Hair + Body Wash to gently cleanse and soften your child's hair and skin. If it's your first time bathing your baby, here's a great article to help you!
Don't worry if your baby only bathes three times a week at most. You're actually already cleaning parts that need cleaning even without bath time bubbles! All that matters is ensuring that their face, neck and diaper area are clean especially in between bath days. You just need to be thorough when changing their diapers and burp cloths and you're good to go.
Choose Products Made for Babies
The reason behind why you need to choose products specifically made for babies is that adult shampoo and soap are often too harsh for newborns. Baby skincare products are usually non-toxic, tear-free and don't contain chemicals that can harm your little one's sensitive skin. It's a must to always check the ingredients list on the label, and make sure the products are safe for babies before buying the products.
When you're choosing products for your little one, you can go for products that have natural organic skincare ingredients. Lovekins has a range of natural organic products for mothers and babies made with Australian botanical ingredients, such as Kakadu Plum, Tasmanian Pepper Berry and Australian Blue Cypress. Our products are safe to use on babies and sensitive skin and are Safe Cosmetics Australia certified toxic-free.
Lotion! Lotion! Lotion!
Mums, always remember that your little one is prone to having dry skin. It's common, especially when it comes to newborns. The reason behind this is that your baby has just left a dark, warm environment, and is now adjusting to a brand new surrounding. In this case, Moisturising could be one of the best ways to help your little one construct a healthy and strong skin barrier. Apply lotion to your child regularly, especially during or immediately after bathtime, to lock in moisture and hydration, leaving their skin smooth and soft.
In case your little one's skin is frequently dry, gently apply a fragrance-free baby moisturiser whenever your child's skin needs hydration. Using a good baby face cream will also help keep their skin soft and supple even during the cold weather. After a bath, apply our Baby Face Cream to keep them moisturised. The all-natural, plant-based formula makes it safe to use on babies with sensitive skin.
Don't Forget the Sunscreen for UV Protection
Since your baby is still young, the sun's UV rays can severely inflict sunburn to their skin. That's why it's very important to apply sunscreen every time you get out with your little one. Whether it's just a walk in your backyard or a trip to your pediatrician, don't forget to apply sunscreen to prevent sunburn. Try out our Lovekins' Baby Sunscreen. It's a multivitamin baby sunscreen made of natural ingredients, which act as a barrier to prevent moisture loss and protect them from the sun's harmful rays.
But do take note that The Australasian College of Dermatologists says that the use of sunscreen on young babies under the age of six months is not recommended. To ensure maximum protection for babies at a young age, it is important to keep them shaded and help them put on appropriate clothing and hats.
Use Massage Oils to Soothe Your Little One
One form of precious bonding is massaging your baby. It's a form of communication where you can express your love and care for them while soothing them to sleep or having fun. Not only that, but massaging your baby also has wonderful benefits to parents! It helps lift your mood, gives you bonding moments with your little angel and makes you feel empowered as a loving parent. For babies, massaging them helps them stay relaxed, soothes them, makes them feel loved and helps them sleep better. On top of that, parents can make their babies feel safe, secure and comfortable during the early stages of their life.
Let your little one enjoy a good sleep after a loving skincare session with our Baby Massage Oil. Lovekins Baby Massage Oil comes with a rich blend of natural ingredients that soothes their senses. It can also be used as an alternative to moisturise and nourish your little one's delicate and sensitive skin. When using as a moisturiser, all you have to do is apply the massage oil after bath using gentle, circular strokes or even add it on your baby's bath during bathtime!
Only the Best for Your Special One
As a parent, this is a no-brainer. Giving the best to your child is always the top priority. We always want to make them feel special, safe, secured and loved throughout their time as a baby and even when they become adults.
Why choose Lovekins? Our mission is to improve the health and happiness of women, mothers and babies with premium products harnessing the power of Australian nature. Our products are free of harmful chemicals or animal by-products and are Vegan Australia certified and allergy certified. Our vision is to create products that families could trust at every stage of life, from womanhood, pregnancy and to parenthood.
Give your baby the best and make them feel special. Check out our Lovekins Baby Care Range and see how our products can take care of you and your little one.
Welcome to Lovekins!
Enter your details below and we will send you a code to receive 10% off your first order when you spend over $80 on a single purchase. Join us to earn points and unlock exciting perks!
My account
Not a member yet?