NAPPY STRESS: 6 Ways You Can Help
Find out about
 nappy stress and how it impacts 1 in 10 families in Australia from Sarah Witty, CEO of The Nappy Collective.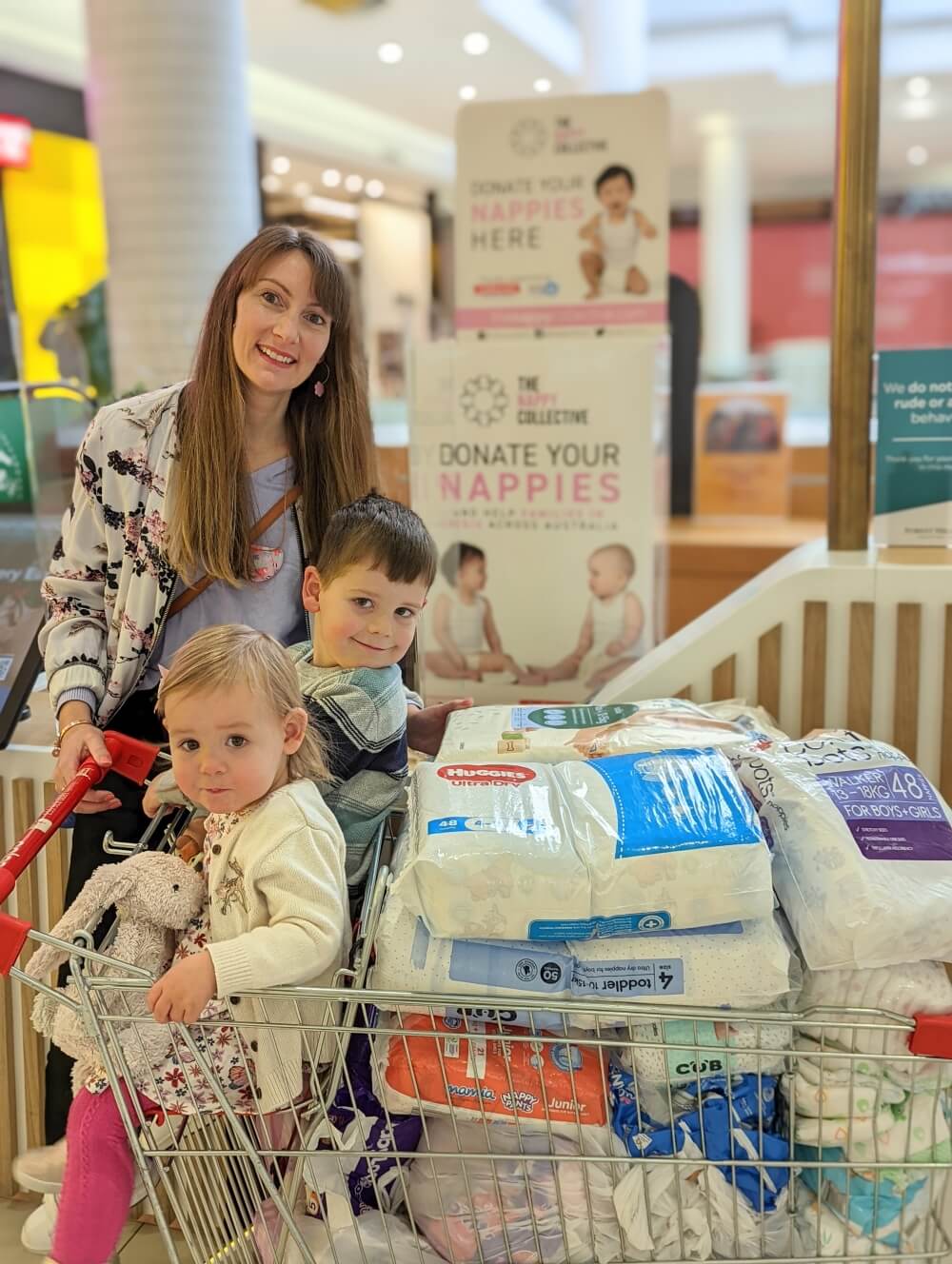 2022 - 10 - 26
It may not be on your radar, but nappy stress is something that impacts 1 in 10 families in Australia. So, what exactly is nappy stress? Here at The Nappy Collective, a community-based not-for-profit, we define it as the experience of a parent or carer not having enough nappies for their child.
While nappies are something many take for granted, families experiencing financial hardship, facing homelessness, seeking asylum, escaping domestic abuse, or being impacted by a natural disaster often find themselves without the means to access nappies.
At The Nappy Collective, we are working towards a vision that every child in Australia has enough nappies to remain clean, healthy and happy. To do this, we need lots of help.
The great thing is that there are many different ways to get involved. Some people have the time to volunteer or the capacity to donate nappies. Others can contribute financially or show their support in just a few spare minutes here and there. Whatever you can offer, you can make a tangible difference to families in need.
1. DONATE NAPPIES
Have some leftover nappies that you no longer need? The Nappy Collective has over 250 collection points around Australia. All you need to do is drop the nappies at a collection point, and we will do the rest.
Collection points are generally businesses and organisations you might frequent anyway (think toy libraries, childcare and health centres, or local retail stores), so it can be really easy to do a drop-off.
It doesn't matter if the package of nappies has been opened. All we require is that they are clean and, if the sizing is unclear, labelled. Some people give nappies that their child has sized out of, and others buy a pack or two of nappies and donate those.
Your generous donation will be delivered to one of our community partners — organisations in your community that support families in need — who will give the nappies to a family experiencing nappy stress. Find your nearest collection point here.
If you can't find a collection point in your area and still want to contribute, there is the option to donate "virtual nappies". Put simply, this means making a financial donation that helps The Nappy Collective support families.
2. JOIN THE COLLECTIVE CREW
The Nappy Collective relies on volunteers all over Australia to collect nappies from collection points in their area. Volunteers then sort loose nappies and deliver them to their local community partners.
This is a hands-on way to get involved and see exactly what The Nappy Collective do. Volunteers report that it feels great to contribute in a practical way, and it's an easy way to integrate volunteering into their everyday life.
Another idea is to team up with a group of friends or your parent group and sign up to volunteer together.  This makes sorting nappies social and fun.
3. FUNDRAISE
There are several ways to fundraise for The Nappy Collective, and most of them involve rallying your family, friends and networks and educating them about nappy stress and how they can help.
You could:
Encourage your school, childcare or kinder to donate nappies or "virtual nappies" (money donations) for The Nappy Collective.
Ask your network to sponsor you in a fun run or walk.
Ask friends and family to donate nappies or "virtual nappies" instead of gifts when you're hosting an event like a baby shower or a little one's birthday.
4. GOT SKILLS? SHARE THEM WITH US
The Nappy Collective can always utilise the expertise of skilled professionals in areas such as marketing, graphic design, fundraising, website design, grant writing, transport and logistics, social media and event coordination.
If you have professional experience that you think might help families in crisis and would like to donate some time, we would love to hear from you! This can be a great way to give back to your community while building your experience working with not-for-profits.
5. BECOME A COLLECTION POINT
We are always on the lookout for new collection points to make it easier for people to donate. If you have a connection to a business or organisation that can collect nappies, this is a great way to support families experiencing nappy stress.
Some organisations collect nappies year-round, and others collect exclusively during our two annual two-week campaigns. Organisations can choose whether to be open to collections from the public or from within the organisation.
You can register for your organisation to become a collection point here.
6. RAISE AWARENESS
The simplest way to help is to tell others about nappy stress and how they can help. We'd love you to follow us on social media and like/share/save our posts. It doesn't seem like much, but it's invaluable to us.
Your engagement with our social media increases the number of people who understand nappy stress and helps us to continue helping families in need. Your support of The Nappy Collective moves us closer to our goal of helping as many families as possible and, in time, ending nappy stress for all.
Find out more about The Nappy Collective and get involved here.
Blog written by Sarah Witty, CEO of The Nappy Collective
Sarah Witty is the CEO of The Nappy Collective. Giving back to the community is important to Sarah. She is a foster parent and has proudly provided a temporary haven for children who have been welcomed into her home. Through foster care, Sarah has witnessed firsthand the impact a simple gift of nappies can have on a struggling family. This experience drives her to ensure that all families have enough nappies to keep their little ones clean, healthy and happy. In addition to her work with The Nappy Collective, Sarah is also a member of the Board of Foster Care Association Victoria, supporting families that have been formed through adoption.
Welcome to Lovekins!
Enter your details below and we will send you a code to receive 10% off your first order when you spend over $80 on a single purchase. Join us to earn points and unlock exciting perks!
My account
Not a member yet?