About (v1)
MEET THE FOUNDER
AMANDA ESSERY + LOVEKINS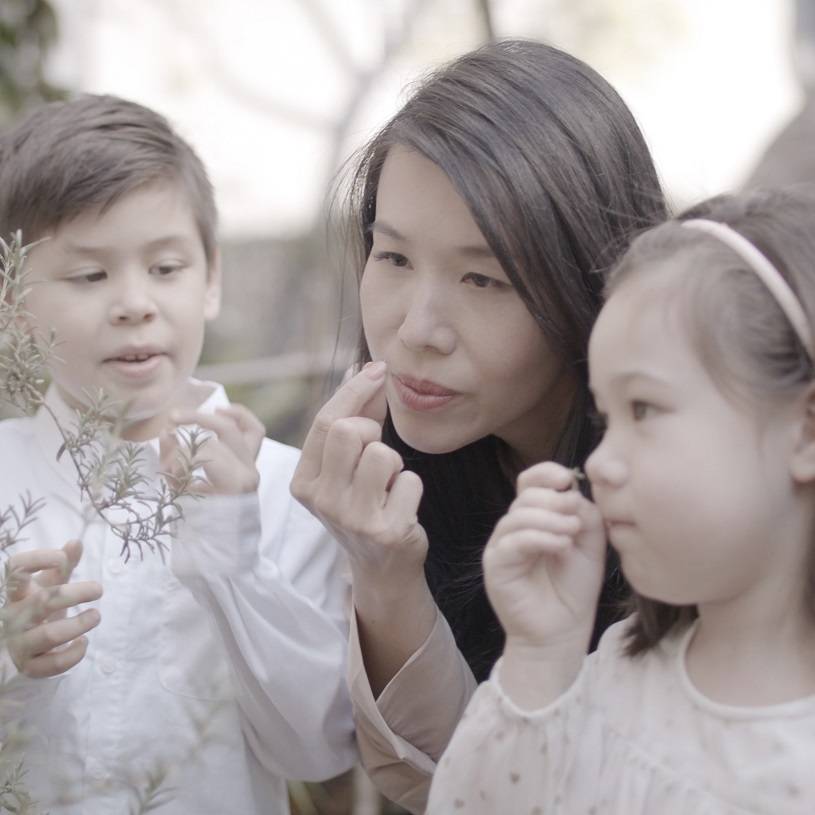 Born and raised in Darwin, NT, Amanda lived in a house where tropical fruits grew in abundance in her very own backyard (mangoes, bananas, papaya, guava, five corner, limes, lemons, pineapples, watermelon, coconuts and sugar cane).
Living next to an Indigenous community and going to school with Indigenous children allowed Amanda to learn from an early age about the Indigenous culture and their way of life. "Bush extracts used by Indigenous Australians as food and medicine for over 60,000 years is something that has fascinated me during my upbringing in Darwin.
As a 6th generation Australian Chinese, Amanda's family came to Australia during the gold rush era and worked in many industries. However, it was the culinary foundation that her father built in her grandfather Jimmy's restaurant in the back of the old Don Hotel that nurtured her love of all things natural and organic.
I grew up with fresh air, clean water and organic produce bought regularly from the farmers at the local markets. My father, a self- trained chef taught me to use only the best produce in cooking, start from scratch and cook with love.

This was how I saw the world and how I expected to spend the rest of my life – living in a healthy environment and eating healthy, organic food. Little did I know how much impact this would have on the course of my life".
ABOUT LOVEKINS
As a 6th generation Australian Chinese, founder and owner of Lovekins, Amanda Essery was born and raised in Darwin in the Northern Territory. She grew up with fresh air, clean water and organic produce free from harsh chemicals. In 2012 when Amanda became pregnant, she ate a healthy diet of fresh organic food and learnt how to make her own natural skincare products. Her baby son Ethan thrived with these homemade preparations.
When Amanda's second child Heidi was born with eczema, the skin medications prescribed by doctors were unable to solve her problem. Amanda was able to manage her daughter's eczema by using her own handmade skincare, based on pure, natural and indigenous ingredients.
That's how Lovekins was born. "Choosing Kakadu Plum as a main ingredient in the Lovekins range was deeply meaningful to me. Kakadu Plum comes from the Northern Territory, my birthplace and a core part of my identity. It's a part of me, and part of our land. I felt it connected me and my baby to each other and to
our land."
"Through Lovekins, I want to help keep women, mothers and babies healthy and thriving. My mission is to provide a pure, natural, Australian skincare range they can trust." – Amanda
Our vision is to improve the health and happiness of women, mother and babies by empowering them with premium Australian products they can trust. We support local communities by using sustainable native ingredients. Our environmentally friendly products will enable future generations to thrive and be healthy.
Our mission through education is to provide a simpler, more natural approach to self careby harnessing the healing power of Australian nature. Through awareness of the benefits of Australian native ingredients we strive to be the leading supplier of Australian premium natural skincare and wellness products in retail channels globally.
LOVEKINS MEANS LOVE + KINS. RELATING TO KINSHIP MEANING 'FAMILY AND COMMUNITY'
Australian made using native botanical ingredients
Genuine and authentic brand story + products
Approved by Safety Cosmetic Australia
Contains no harmful chemicals or animal by-products
Vegan Australia Certified + Allergy Certified
Continued product research + innovations
NATURAL + ORGANIC + AUSTRALIAN
LOVEKINS USES THE KAKADU PLUM – THE HIGHEST SOURCE OF VITAMIN C ON THE PLANET
Welcome to Lovekins!
Enter your details below and we will send you a code to receive 10% off your first order when you spend over $80 on a single purchase. Join us to earn points and unlock exciting perks!
My account
Not a member yet?