sanitiser spray 50ml
This is a fast-drying and non-sticky hand Sanitiser Spray that kills 99.9% of germs without water or soap. Our plant-based formula contains antibacterial ingredients such as Australian Kakadu Plum, Blue Cypress and Lemon Myrtle, which leave hands feeling soft, fresh and moisturised. It's free from nasty chemicals and has a naturally pleasant smell, and it's perfect for use on all skin types.
Main ingredients
Kakadu Plum, Blue Cypress + Lemon Myrtle
Ingredients:
*Alcohol, *Aqua (Water), *Terminalia Ferdinandiana (Kakadu Plum) Extract, *Tasmannia Lanceolata (Mountain Pepper) Extract, *Eucalyptus Globulus (Eucalyptus) Oil, *Callitris Intratropica (Australian Blue Cypress) Wood Oil, *Backhousia Citriodora (Lemon Myrtle) Leaf Oil, *Aloe Barbadensis (Aloe Vera) Leaf Juice, *Helianthus Annuus (Sunflower) Seed Oil, Tocopherol, *Glycerin, *Citric Acid, Sodium Benzoate, Potassium Sorbate. *Naturally derived
Free from:
Propylene Glycol, Phthalates, Ammonia, Chlorine, Triclosan, Sodium Hydroxide, Artificial Colours and Synthetic Fragrances.
Australian Made + Certified Toxic Free + Vegan Certified.
How to use
Spray a small amount of product into the palm of your hand. Rub hands together briskly until dry. Reapply as necessary.
or make 4 interest-free payments of $0.50 AUD fortnightly with
The Ingredients
Kakadu Plum
Kakadu Plum has the highest source of Vitamin C on the planet – up to 100 times more Vitamin C than oranges. It contains antioxidant, anti-bacterial, anti-viral, anti-fungal and anti-inflammatory properties to help keep mother and babies skin healthy.
Australian Blue Cypress
Australian Blue Cypress is native to Australia and grown in the Northern Territory; the blue coloured guaiazulene has anti-inflammatory, anti-bacterial, anti-pyretic, anti-allergenic and anti-viral benefits, which restore, refresh and protect delicate skin. In addition, the unique scent creates an instant feeling of calm and relaxation, making it perfect for de-stressing and self-care.
Lemon Myrtle
Found in Australian rainforest areas, Lemon Myrtle is high in antimicrobial actives. Its unique, citrusy aroma can soothe nerves and promote relaxation.
Explore Our Ingredients
Lovekins Home Range is specially formulated with natural and plant based anti-bacterial ingredients. Designed to be safe for you, your home and the environment
You may be also interested in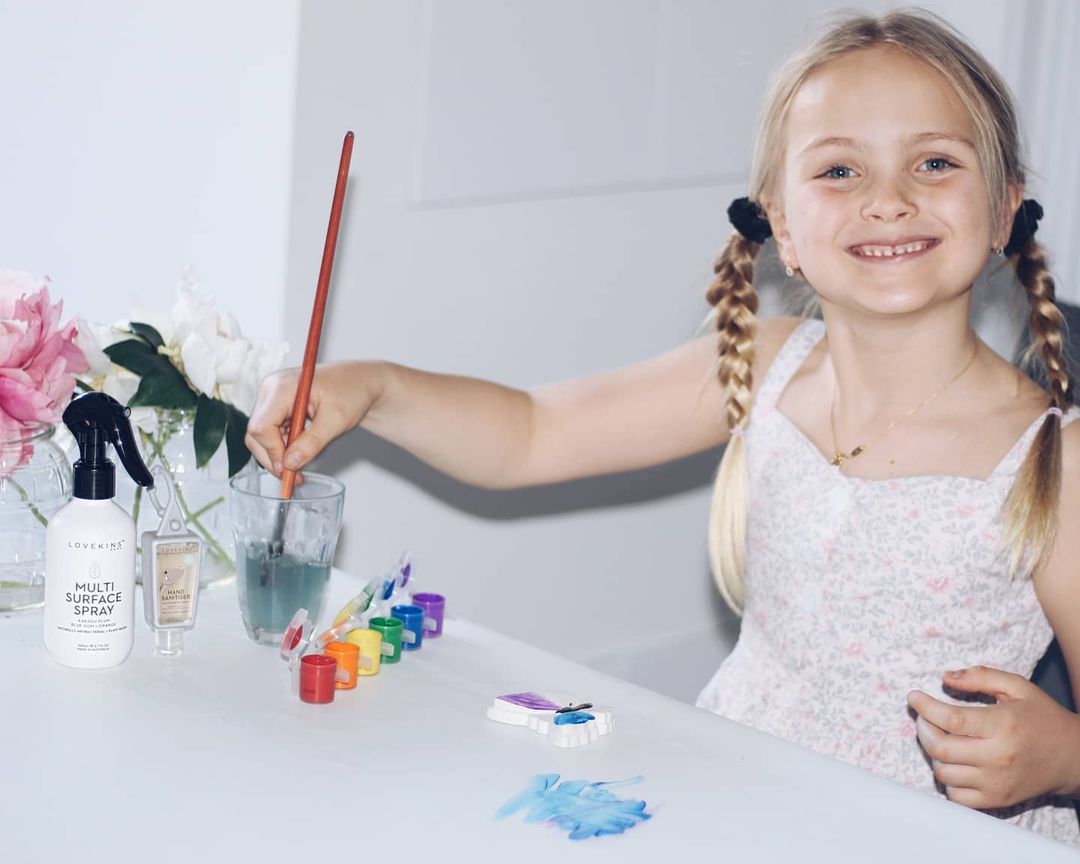 Top 5 ways to keep your children entertained... As told by a teacher
Keeping children entertained while in lockdown is hard! Read the top 5 ways to keep your children entertained as told by a teacher.
Read more
Customer Reviews
Love the smell of this
Smells delightful and gentle on the skin. Super handy!
10/04/2022
Emma S.

Australia
Beautiful
Smells amazing. Easy for children to use and convenient.
08/16/2021
Emily L.

Australia
Fresh, natural ingredients.
With the need for sanitiser so great at the moment, I thought I would give this one a try. I keep looking for products that won't be as harsh on my skin. I like this for all of those reasons, but the lemon myrtle scent is quite strong. My Mum loves lemon myrtle though, so it will be a real winner for her, even if it is a bit too strong for me.
Welcome to Lovekins!
Enter your details below and we will send you a code to receive 10% off your first order when you spend over $80 on a single purchase. Join us to earn points and unlock exciting perks!
My account
Not a member yet?