outdoor play essentials
Your little explorer is ready to take on the great outdoors! This kit contains a selection of essential products to keep your baby sun-safe and protected against environmental aggressors when they play outside. Cleanse the surfaces and effectively disinfect their hands with our gentle, toxin-free formulas. Our zinc-oxide based sunscreen provides non-chemical broad-spectrum UVA and UVB protection. The portable sizes make these products easy to use when you're on the go with an active toddler.
Size
1x Multi Surface Spray 200ml, 1x SPF30 Baby Sunscreen 80g, 2x Sanitiser Spray 50ml, 1x SOS Rescue Cream 30ml.
Main ingredients
Kakadu Plum, Blue Gum + Orange Oil
Multi Surface Spray
Our plant-based formula contains antibacterial ingredients such as Australian Kakadu Plum Leaf, Blue Gum and Orange Oil.
SPF30 Baby Sunscreen
Our cream-based formula contains Kakadu Plum, Candelilla Wax and Zinc Oxide.
Sanitiser Spray
Our plant-based formula contains antibacterial ingredients such as Australian Kakadu Plum, Blue Cypress and Lemon Myrtle.
SOS Rescue Cream
Contains SymRelief®, Calendula Flower Extra and Gotu Cola to support healing and a strong skin barrier.
Free from:
Propylene Glycol, Phthalates, Ammonia, Chlorine, Triclosan, Sodium Hydroxide, Artificial Colours and Synthetic Fragrances.
Australian Made + Certified Toxic Free + Vegan Certified.
How to use
See individual products for usage guidelines.
or make 4 interest-free payments of $10.98 AUD fortnightly with
Sample Hero Ingredients
Kakadu Plum
Kakadu Plum has the highest source of Vitamin C on the planet – up to 100 times more Vitamin C than oranges. It contains antioxidant, anti-bacterial, anti-viral, anti-fungal and anti-inflammatory properties to help keep mother and babies skin healthy.
Blue Gum
Eucalyptus leaves are high in antioxidants and naturally antibacterial. This gentle, plant-based surfactant helps neutralise odours and maintain clean surfaces.
Orange Oil
Mood-lifting and refreshing, Orange Oil eliminates unwanted scent while disinfecting surfaces with its antimicrobial property.
Explore Our Ingredients
Lovekins Home Range is specially formulated with natural and plant based anti-bacterial ingredients. Designed to be safe for you, your home and the environment
You may be also interested in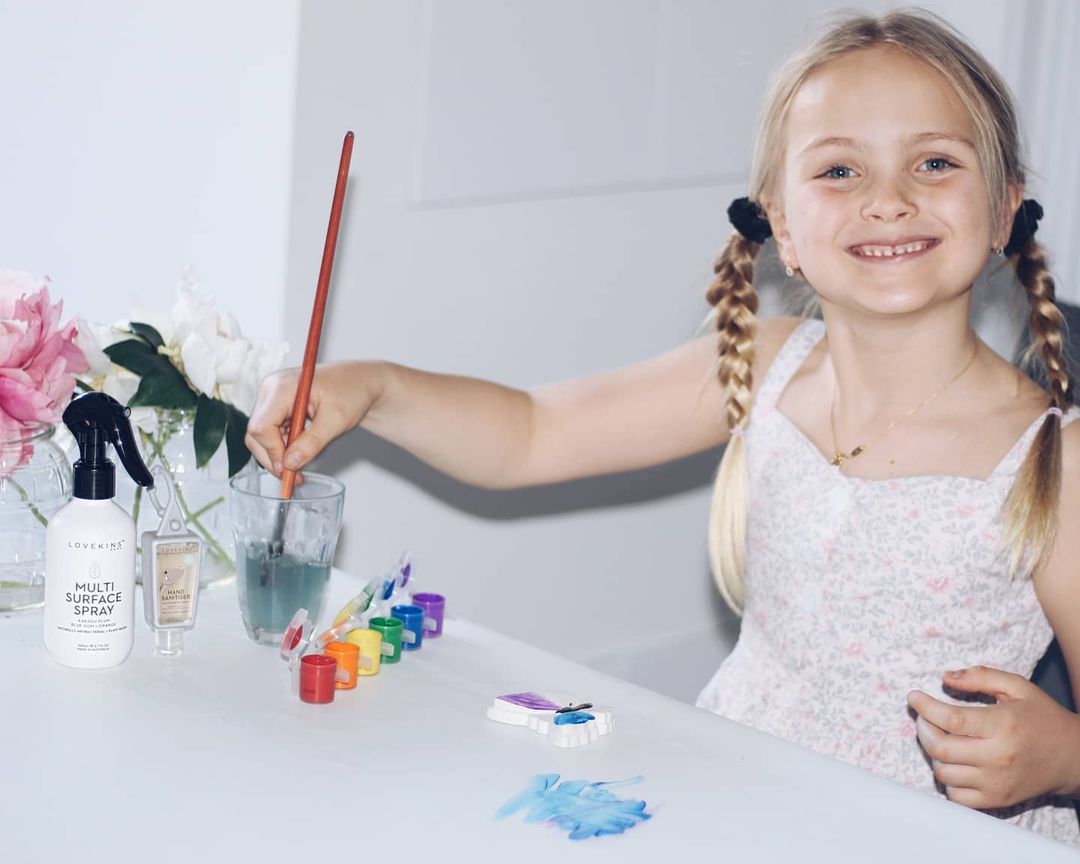 Top 5 ways to keep your children entertained... As told by a teacher
Keeping children entertained while in lockdown is hard! Read the top 5 ways to keep your children entertained as told by a teacher.
Read more
Welcome to Lovekins!
Enter your details below and we will send you a code to receive 10% off your first order when you spend over $80 on a single purchase. Join us to earn points and unlock exciting perks!
My account
Not a member yet?