FAQs (v1)
FREQUENTLY
ASKED
QUESTIONS
AUSTRALIAN MADE AND OWNED – WHAT DOES THAT MEAN?
Lovekins is licensed and members of the Australian Made & Owned Campaign guaranteeing that all our skincare products are made in Australia to the highest of Australian Standards (GMP/TGA certification).
WHAT DOES LOVEKINS MEAN?
Lovekins means "Love of Family". It is the combination of the word 'love' and 'kins'. Kins meaning kinship, relating to family, therefore Lovekins = Love of Family. Join us as we share our love of creating natural and toxic free products the whole family can use and trust.
WHAT AGE ARE YOUR PRODUCTS SUITABLE FOR?
All Lovekins products have been formulated to be safe for use from birth. We understand that newborn skin is especially sensitive which is why we use only the best quality natural and organic ingredients to protect your young child's skin. Even adults and the elderly use our product range due to their sensitive skin condition. Midwifery guidelines however suggests use products from 6 weeks and sunscreen from 6 months.
ARE ESSENTIAL OILS SAFE FOR USE ON BABIES?
There are certain pure essential oils that are considered toxic and should not be used for babies. Lovekins product range contains pure essential oils at concentrations safe for use on babies and during pregnancy; as consulted by our qualified R&D formulators during the development of our products. We use 100 per cent pure essential oils which are grown and processed without the use of synthetic chemicals. If you have any questions or concerns about the use of essential oils on your baby, please consult your doctor or aromatherapist.
DO YOUR PRODUCTS CONTAIN ALCOHOL?
Lovekins do not use "alcohol" in any of our formulations – this refers to drying alcohols. Any reference to "alcohol" on our labels refers to the wax alcohols or cetearyl alcohol which are classed as moisturising alcohols. Cetearyl alcohol is made from various vegetable oils such as sustainable palm and coconut. They bear little relation to common alcohol, which is a volatile liquid and quite drying.
I AM ALLERGIC TO NUTS. DO ANY OF YOUR PRODUCTS CONTAIN NUT OILS?
It depends on your allergy – do you have a peanut, tree nut allergy or Gluten intolerant? Our products do not contain nut/nut derivatives. Our baby range include Coconut derived in ingredients which is considered a fibrous one-seeded drupe (dry drupe). It is therefore defined as a fruit, nut and seed! While it is possible to be allergic to coconut, the cross reactivity for those with tree nut allergies is very rare.
If in doubt, always seek the advice of a healthcare professional. You can also contact us with any questions about our products and/or ingredients.
DO YOU HAVE A PRODUCT THAT WILL HELP WITH MY BABY'S CRADLE CAP?
Exactly what causes cradle cap remains a bit of a mystery. What is known is that it is better to use a product that is pH balanced, free from drying agents and is moisturising so as not to upset the natural oils of your baby's scalp, which can lead to dryness and cradle cap.
We get a lot of feedback from mums who have babies with cradle cap that have used Lovekins Baby Massage Oil and Baby Hair + Body Wash with great success.
DO YOU REQUIRE A TGA AUST L OR AUST R NUMBER?
Yes. If a company makes the claim to treat a skin condition, then they are required to have an Aust L or Aust R number. Lovekins Baby Sunscreen has a sun factor of SPF30 and makes claims of sun protection from UVA and UVB rays.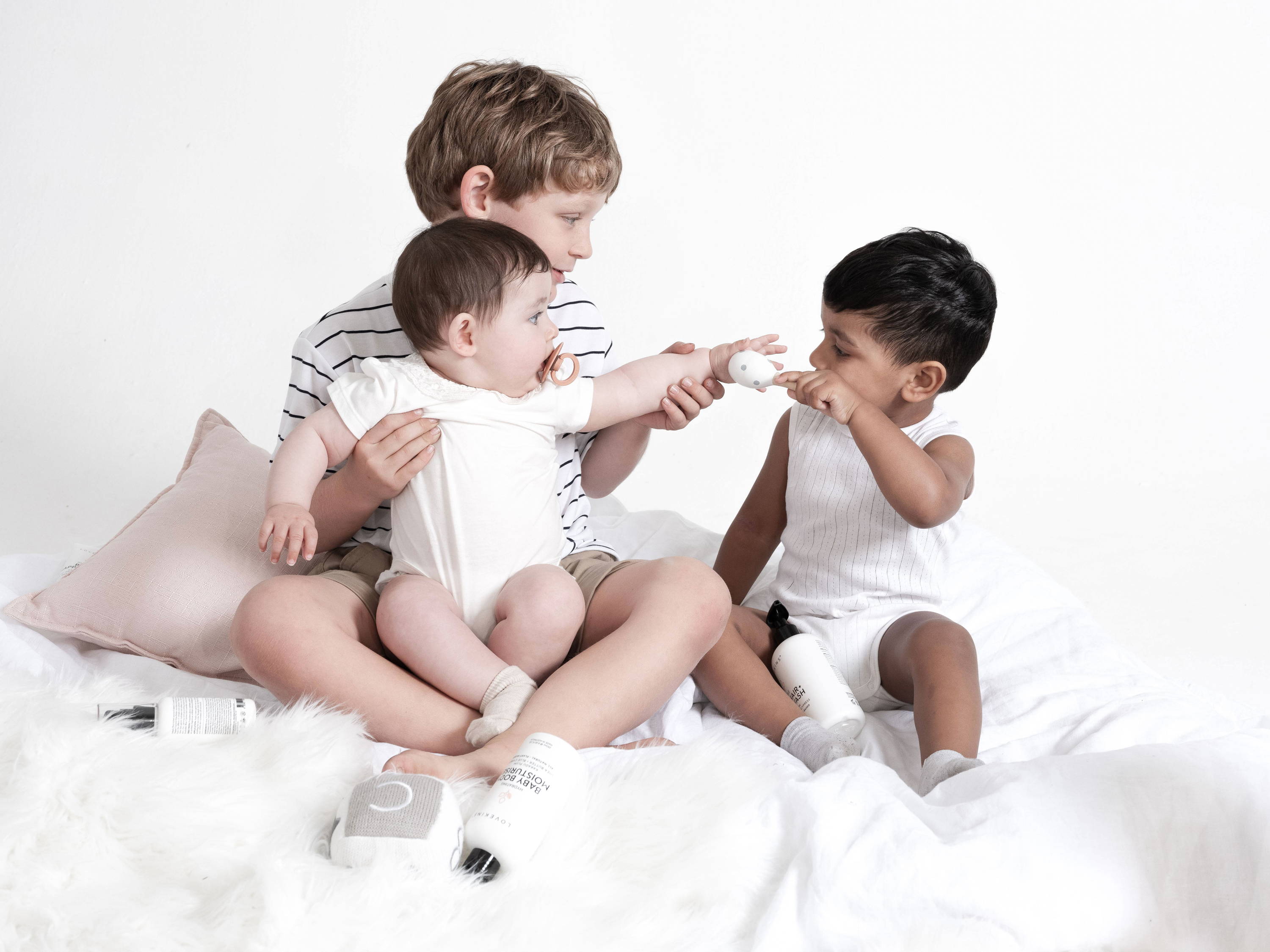 WHAT IS THE DIFFERENCE BETWEEN THE PREVIOUS LOVEKINS BABY SKINCARE AND RECENT RE-LAUNCHED LOVEKINS BABY RANGE?
In November 2019, Lovekins re-launched into the market a newly reformulated baby range. Due to customer feedback from all around the world, we have combined what our customers love and have incorporated this into the new formulation. For this reason, reformulating has taken us some time and we value your patience during the process. The continued feedback from our customers allows us to continue to be a progressive company that innovates with new product developments.
Kakadu Plum sourced from our chosen farms in the Northern Territory has not changed. The hero ingredient in our skincare range continues to be an integral part of our brand identity due to its antioxidant and antibacterial properties.
Australian Blue Cypress is a new ingredient that possess unique aroma and ingredient benefits. The aromatic wood compounds from the pine trees create guaiazulene, an anti-inflammatory compound similar to chamazulene that gives the essential oil its natural blue colour. Joyfully grounding and stabilising, it is calming and relaxing for stressful babies. Praised for its anti-bacterial qualities, it is good for soothing the skin. Australian Blue Cypress is native to the Northern Territory, this oil was selected as the official fragrance "Essence of the Sydney 2000 Summer Olympics."
Tasmanian Pepperberryis a natural Australian active ingredient extracted from the Tasmanian pepper berry, especially designed to protect, smooth and reduce skin sensibility from daily harmful skin elements. The Tasmanian pepper berry contains a powerful active ingredient called polygodial. It is an anti-inflammatory agent effective to reduce vasodilatation and oedema. Studies have demonstrated that polygodial calms skin discomforts. It has anti-allergic and broad antimicrobial activities.
Oat Kernel FlourSoothes and relieves redness, itching and minor skin irritations caused by eczema or skin rashes. It provides skin moisturisation and hydration. Acts as a skin protectant. Effectively forms physical barrier on the surface of the skin to reduce TEWL (Transepidermal water loss). It contains a high proportion of natural actives including oat beta-glucan, avenanthramides, oil and protein, all of which are beneficial to maintain healthy skin. Oatmeal helps to normalise your skin's pH levels, which helps to restore your skin's natural pH and soften the dry skin. It also protects the skin from external irritants, by lending moisture to the skin.
Desert Milkis easily absorbed into the skin, improving topical delivery and providing an over­all lightweight feel. Desert milk is a nourishing liquid wax ester derived from the seed of the jojoba shrub. Native cultures have used Jojoba for centuries on their skin and hair by crushing the seeds to release the oil. Desert Milk is rich in Omega-9 fatty acids, Vitamin E and phytosterols and offers intense hydration, conditioning and emollient properties. The extracts and the plant-based phospholipid promote hydration, conditioning, softening and smoothing while helping to maintain healthy barrier function with anti-inflammatory properties.
WHY DOES THE CREAM NOT ABSORB EASILY AND EVEN LEAVES WHITE MARKS?
This common complaint is usually the result of using too much of the cream that contains high levels of emollients — ingredients meant to stop water from evaporating from your skin. As you apply the cream on your skin, the water in it evaporates, and the residue is the visible evidence of the emollients that help moisturise the skin. Try to use the appropriate amount of cream, this minimizes the amount of time the cream takes to become absorbed into the skin.
Our new formulation is composed of a rich component of moisturising ingredients making the formula highly emollient. Therefore, it is thicker than the previous formula. Our products use all plant-based butters and oils which are nutrient rich for the skin. The best way to apply our creams and oils is to use gentle and firm circular motions with the hands. It is best applied after a warm bath so that the skin is ready to absorb the cream. Massaging the product into the skin is the most effective way rather than a rubbing motion as this will cause the cream to be agitated leaving a "white" streak on the surface of the skin.
WHY DOES YOUR CREAM LOOK DIFFERENT COMPARED TO THE ORIGINAL FORMULA?
Our baby range has been completely reformulated, the consistency, colour and aroma have all changed. Due to our products using natural ingredients, the colour, aroma and consistency can vary from batch to batch. This is something mother nature cannot change as each harvest of plants, flowers, vegetables and fruits are impacted seasonally. We ensure that every batch is made to order with fresh raw materials and to the strictest GMP quality control.
WHY IS YOUR NAPPY CREAM NOW 80G COMPATRED TO THE PREVIOUS SIZE OF 100ML BOTTLE?
Due to customer feedback, we have changed our packaging from bottle to tube. The tube allows easy output of cream and now in a conveniently smaller size suitable for travel and portability.
WHY HAVE YOU CHANGED FROM YOUR PREVIOUS PACKAGING?
As we pride in being an innovative company, the look and feel for our branding needs to constantly align with what we believe in. Our baby range bottles and tubes are now made in Australia to support local businesses and maintain jobs in Australia. Our tubes are made using energy from solar panel farms with recyclable raw materials to ensure we contribute to a sustainable impact on our environment. Our tubes also contain a special anti-counterfeit ink to ensure that you as a customer are purchasing a genuine Lovekins product that can be traceable.
SAFETY +
ALLERGY
GUIDELINES
The following safety guidelines should be observed before using Lovekins:
Our baby range has a pH level of 5.5 essential to maintain healthy skin. As with any product that contains fragrance or essential oils there are chances of skin irritation due to sensitivity. We use no more than 0.2-0.3% of essential oils in the entire formulation. This is safe in babies and is the recommended dosage of essential oils and safety usage according to Tisserand Institute and NICNAS.
Flare ups and skin irritation can be caused by factors that can affect barrier function of babies such as stress, weather, and the skin's microbiome. Baby's food/diet and clothing also impacts the baby's skin.
Our products contain oils and butters from naturally derived plant-based food grade seeds, fruit and vegetables. If you have a history of allergy, please read the product label carefully. We recommend that people prone to sensitive skin perform a patch test first to ensure there is no reaction. In cases where it may cause sensitivity in certain individuals; discontinue use if irritation occurs.
If you are uncertain about possible sensitivity, always do a patch test before use or consult your healthcare professional.
Products and advice by Lovekins make no claim to cure or prevent any disease or medical problem and is not intended to substitute other therapy or medical advice.
In the case of pregnancy please consult with your health care professional.
NATURAL + ORGANIC + AUSTRALIAN
LOVEKINS USES THE KAKADU PLUM – THE HIGHEST SOURCE OF VITAMIN C ON THE PLANET
Welcome to Lovekins!
Enter your details below and we will send you a code to receive 10% off your first order when you spend over $80 on a single purchase. Join us to earn points and unlock exciting perks!
My account
Not a member yet?